JESUSCARITASEST.ORG REPORT: The Prince of Monaco, Albert
Grimaldi, married Charlene
Wittstock, of South Africa, on Saturday, July 2. This was a Roman Catholic ceremony presided by Archbishop Bernard Barsi. He said,
"We ask God to bless you, to make your love strong and keep you in unity and loyalty."
The wedding took place in the Royal Palace with 3,500 guests in attendance.
The prince is 53 years old, while Charlene, a former Olympic swimmer, is 33 years old. The couple met at a swimming event in 2000. (Image source: yooex/google)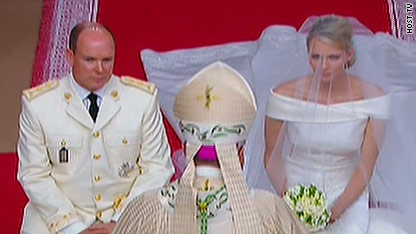 The ceremony was attended by many royals and celebrities including,
French President Nicolas Sarkozy. (Image source: featuresrr.com)
Prince Albert is the only son of Prince Ranier III and former Hollywood actress Grace Kelly. Grace Kelly married Ranier in 1956. She died in a car accident in 1982 leaving the Prince 3 children, Caroline, Albert and Stephanie.
(Image source: habitually chic blog)
Both Charlene and Albert hope to have children soon.
crince Albert has publicly acknowledged that he has fathered 2
children out of wedlock. It is hoped that the
sacrament of marriage will sustain the royal couple in faithfulness to each other and the Faith.
Regardless of fame and prestige all souls are susceptible to sin and in need of prayers. May God bless
couple and keep them in His love.