Sydney Archdiocese REPORT
13 Sep 2011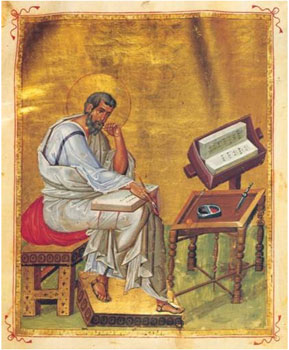 Technology is bringing the Gospels and discussion of the scriptures to an increasing number of people with eConferences reaching thousands of people.
An estimated 30,000 took part in the Broken Bay Institute's sixth eConference last week which explored St Matthew's Gospel and included participants at schools, parishes and dioceses across Australia and from as afield as Israel, Vietnam, Britain, the US and China.
The second eConference for 2011 was titled "Following Jesus - Matthew" and shedding light on the evangelist who lived some 50 years after Christ's death, and his Gospel, were leading two Australian theological scholars, Fr Chris Monaghan CP, the Reverend Dorothy Lee and Britain's Fr Nicholas King SJ.
Well known authorities on the Scriptures, Fr Mongahan is President of the Yarra Theological Union and with the Rev Lee is Dean of Trinity College Melbourne gave two of the key note addresses. The third was given by Fr King who lectures at Oxford University and is renowned for his ground breaking translation of the New Testament from the original Greek.
Between each of the key note addresses, participants were encouraged to discuss what they had just heard via trained facilitators and also sent questions via email which were addressed by the three speakers at a panel discussion in the afternoon.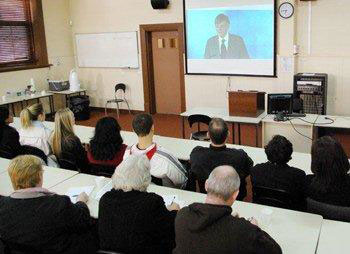 When the first eConference was first streamed live in June 2009, just over 5000 Catholics logged on. Back then there were 120 sites set up across Australia with a few additional sites participating at centres in New Zealand.
Today the number of sites in Australia has topped the 200 plus mark and overseas Catholics keen to learn more about their faith continue to increase with groups in more and more countries setting up their own sites and joining in the discussions.
"We are always thrilled when new groups and sites are added but are also delighted that so many groups who took part in our first eConference three years ago have become 'regulars.' What might have been just five or six in a group back then, has grown in size with everyone bringing along more and more of friends so often the original group now numbers 100 or more," says Annie Carrett, Communications Manager for the Broken Bay Diocese.
From the start the response to eConferences has exceeded expectations.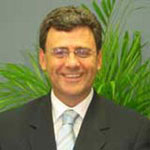 "Modern technology has meant we have been able to reach thousands of people who would not normally have the opportunity to hear such outstanding speakers or to be able have discussions with a facilitator after each speaker, and to ask a panel questions in real time," says Dr Gerard Goldman, Director-Principal of the Broken Bay Institute (BBI). "Technology has also enabled us to share the incredible richness of our tradition so people can deepen their faith and learn more about the Gospels, the Church and the Scriptures."
Since the BBI's first eConference, the twice annual teachings of the Gospel and the Church have become much anticipated events and have not only enabled Catholics worldwide to participate, but even more importantly, have allowed schools and parishes in remote rural and regional areas to take part.
"There has always been talk about the tyranny of distance in Australia. But eConferences have changed all that. With an eConference it doesn't matter where people live as long as they are at a centre that has access to the internet," Dr Goldman says.
An initiative of the BBI in conjunction with the Australian Catholic Bishops Commission for Mission and Faith Formation, each eConference comprises six sessions of 20 minutes each. The live webcast beings with an opening prayer at 10.30 am followed by an introduction, then the first keynote speaker is heard after which there are local facilitated discussions. Then comes the second key note speaker, a 20 minute facilitared discussion, and then the third speaker. After a break for lunch, there are two more key note speeches and discussions followed by a panel of q and a, and a final prayer at 2.45 pm.
"We always finish around 3 pm to enable schools to participate," Dr Goldman says.
Admitting the decision to make a DVD of each eConference was almost an afterthought, Dr Goldman says the eConference DVDs have become one of the most important aspects of all, and provide an invaluable and ongoing resource for schools, parishes as well as individuals.
These range from the first eConference, "Paul - the Man, the Mission and Message for Today" to "The Gospel of St Luke," the subject of the second one. For the third eConference "Mary - First Disciple" was explored and this was followed by the powerful: "Jesus Christ, Son of God, Son of Man - Fully Human, Fully Divine."
The fifth eConference was held in May this year and was titled: "The Holy Spirit - Giver of Life" and was followed by last week's eConference on the Gospel of Matthew.
The next eConference is set for May 2012 with the theme to be announced by November this year.
http://www.sydney.catholic.org.au/news/latest_news/2011/2011913_733.shtml