Catholic Communications, Sydney Archdiocese REPORT
6 Jan 2012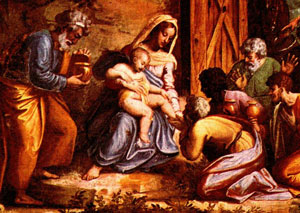 This feast on 6 January celebrates the manifestation of Christ to the Gentiles and the visit of the Magi or Wise Men to the Christ Child.
The name "Epiphany" comes from the Greek word "Epiphania" which means to show, make known or reveal.
The celebration originated in the Eastern Church in AD 361, beginning as a commemoration of the birth of Christ before other meanings were added - the visit of the three Magi or Wise Men, Christ's Baptism in the Jordan River and even his first miracle at the wedding at Cana. These three events are central to the definition of Epiphany.
Falling within Christmastide, the Epiphany solemnity on this day traditionally marks the end of the Twelve Days of Christmas.
While some Greek Orthodox Churches still observe the Epiphany celebration as the Nativity of Jesus, the majority of the Eastern Orthodox, Roman Catholic and Anglican Churches focus on the visit of the Magi and Jesus' Baptism. The significance behind the visit of the Magi is the revelation of Christ as "Lord and King".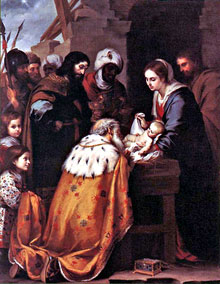 The Wise Men were the first Gentiles to publicly recognise the divinity of Jesus, by way of their offerings of gold, frankincense and myrrh.
The Holy Father, Pope Benedict XV1 has encouraged Christians to continue living the joy and mystery of Christmas in preparation of the Feast of the Epiphany.
This week he told his weekly audience in St Peter's, Rome; "Christmas is the feast when God becomes so close to human beings that he shares the same fact of being born to reveal to them their deepest dignity, that of being sons and daughters of God.
"In that way, the dream of humanity that began in paradise - we want to be like God - is realised in an unexpected way: not because of the greatness of man, who cannot make himself God, but through the humility of God, who descends," Pope Benedict said.
The Holy Father said that if at Christmas Jesus is born and almost "hidden" in human form in the manger in Bethlehem, at Epiphany he is revealed to the Three Kings, and the world.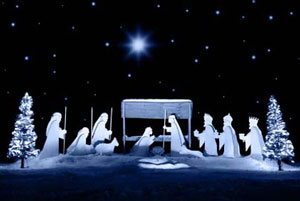 He also encouraged Christians to keep the Christmas spirit and contemplate God revealing himself to humanity and radiating "the joy born of knowing how close God is to us".
Christmas, Epiphany and the Baptism of the Lord are invitations to become more aware of the responsibility each Christian has to bring the light of Christ to the world, Pope Benedict said.
He said the feasts are also an invitation to welcome Christ into one's heart once again and strengthen a commitment to imitating him, so that "his feelings, thoughts and actions are our feelings, thoughts and actions.
The Holy Father will celebrate the Baptism of the Lord by baptising babies in the Sistine Chapel on Sunday, 8 January.
http://www.sydneycatholic.org/news/latest_news/2012/201216_1098.shtml