ARCHDIOCESE OF SYDNEY REPORT:
Catholic Communications, Sydney Archdiocese,
13 Apr 2012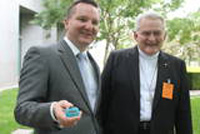 Many walk the corridors of power in Federal Parliament but just before Easter, the Minister for Immigration and Citizenship, Chris Bowen went one step further.
In one sitting week he not only clocked up a staggering 38.5 kilometres as part of his normal day-to-day duties in Parliament's halls and chambers but also managed to raise $650 for Caritas Australia.
At the beginning of the week, sponsored by some of those in his office along with several Parliamentary colleagues, Minister Bowen strapped on a pedometer. Within three days he discovered he'd taken 34,000 steps and by week's end it was more than double that amount.
"Parliament may not seem like the most ideal place to walk to raise funds and I was surprised at how much distance I actually covered," he admits with a smile.
Although a long time admirer of Caritas, the Minister with his crowded schedule and Parliamentary commitments was unsure how he could become involved with Project Compassion and help raise funds for the agency. Which is when Bishop Max Davis, the Canberra-based Bishop of the Military Ordinariate suggested "Caritas KS".
"Walking in support of the poor was really was the least I could do, especially when so many people have to walk long distances in far more difficult circumstances every day of their lives," Minister Bowen says.
Throughout Lent, Minister Bowen along with thousands of other Australian men, women and children helped raise funds for Project Compassion, the annual fundraiser of Caritas, the Church's International Aid and Development agency. Many like the Minister took part in Caritas Ks with each finding a sponsor or sponsors for each kilometre covered during a week, fortnight or the entire Lenten period.
Now in its 48th year, Project Compassion has become an integral part of Lent and this year the campaign not only hopes to raise awareness about global poverty but hopes to equal last year's record amount of $9.7 million.
All monies from Project Compassion 2012 will go to support communities in Asia, Africa, the Pacific, Latin America as well as Australia's remote Indigenous communities in Northern Australia where Caritas teams are on the ground making a difference to hundreds of thousands of lives.
"Caritas is about helping people help themselves. It is also about delivering justice and peace which in turn leads to stability and security," says Jack de Groot, CEO of Caritas Australia.
The world's largest aid agency after Red Cross, Caritas Australia and Caritas agencies globally, provide ongoing help and assistance to the world's poorest communities. Through education and improved agriculture, hygiene, medical care, accessible fresh water and schools, teams from Caritas help communities break the cycle of poverty and become self sufficient.
Caritas emergency relief teams are also an important part of the agency's work. In times of natural disasters, the quick response teams are on the ground providing tents, food, potable water and medical care. In the past year among those Caritas has helped are victims of Japan's devastating tsunami, East Africa's ongoing famine and those caught up in the floods that swept through Thailand and South East Asia.
Throughout Lent, Australians from all walks of life as well as schools, community groups, sporting bodies and local organisations band together to raise funds for Project Compassion in a bid to combat global poverty and support the work of Caritas in 220 countries across the world.
The way funds are raised varies from group to group and individual to individual. Some hold fetes, others put on concerts, clean cars, mow lawns, take up dog walking or hold weekly bake sales. There are as many different and innovative ways to raise funds as there people taking part. But the Caritas Ks sponsored walk initiative is new and thousands including Minister Bowen have embraced the idea.
"It's a simple concept and arises from the fact that in developing countries people often have to travel for hours to reach basic requirements such as fresh water," Jack de Groot explains.
"Caritas is such a great charity and doing tremendous work for those who are less fortunate than ourselves that I was delighted to be able to take part and give my support," says Minister Bowen.
Although Project Compassion officially ends with Easter, donations and funds are still being received with the total amount raised for 2012 not finalised until later in the year. If you wish to give to support the agency's all important work, go to
www.caritas.org.au
.
SOURCE:
http://www.sydneycatholic.org/news/latest_news/2012/2012413_763.shtml