ARCHDIOCESE OF SYDNEY RELEASE:
Catholic Communications, Sydney Archdiocese,
15 Jun 2012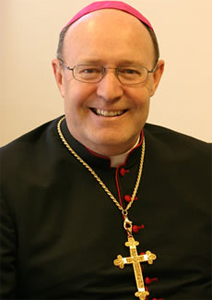 The public debate on same-sex marriage has been ramped up with the release this weekend of a pastoral letter by the Archdiocese of Sydney.
The letter says legislating for same-sex marriage will change the meaning of marriage for everyone and radically reshape the cultural and social structures of our country.
It also says instead of removing discrimination and injustice, it will cause them.
Released by the Archbishop of Sydney, Cardinal George Pell and the auxiliary bishops, Bishops Julian Porteous, Terry Brady and Peter A.Comensoli, the letter is designed to Present a clear understanding of the Catholic Church's stand on marriage.
Called "Marriage: One Man and One Woman in a Covenant of Love and Life, the letter will be available to all parishioners on Sunday.
Bishop Porteous also hopes every parish priest will read the letter at the Sunday Masses.
An accompanying bookmark with a series of frequently asked questions and answers will also be available.
"Many people, with the current debate, are confused about marriage," Bishop Porteous said.
"Marriage is more than having one's love for another legally recognised.
"It has been protected and supported by the law because governments have recognised its contribution to the good of society. The family based on strong, happy marriages plays a unique role in generating children and ;providing the best environment in which children can be nurtured and educated. It helps to ensure the future and wellbeing of society," he said.
With many supporters of same-sex marriage claiming discrimination if same-sex legislation is not passed, the Archdiocese has set out very clearly the church's position and the reasons why with this letter.
The Q&A bookmark also answers many of the current questions in the debate and provides some further resources.
Bishop Porteous is also alerting people to an event on 10 July at Parliament House in Sydney called "Redefining Marriage...the implications" with Special Counsel Barrister, John Fernon.
This will address the implications for our laws, culture and religious liberty and will be part of SCENE 2012: the Sydney Congress on the New Evangelisation.
Meantime a parliamentary committee on same-sex marriage will report on Monday. The House of Representative committee looked at two bills, one from Labor's Stephen Jones and the other a joint effort by Independent Andrew Wilkie and Australian Greens deputy leader Adam Bandt.
SHARED FROM ARCHDIOCESE OF SYDNEY