ARCHDIOCESE OF SYDNEY RELEASE:
Catholic Communications, Sydney Archdiocese,
14 Jun 2012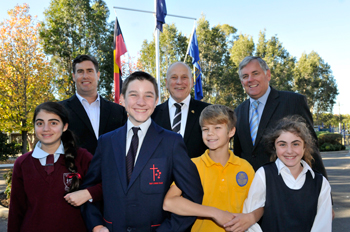 Thanks to a $34,000 grant from Dooley's Catholic Club at Lidcombe, 15 local Catholic schools will be able to offer bursaries to families battling to meet the cost of a Catholic education for their children.
"While the cost of an education at a Catholic school is kept as low as possible, for some families it can still be a struggle to meet these costs," explains Kevin Greene, Director of the Archdiocese of Sydney's Catholic Education Foundation.
Established a year ago, the Foundation was created to support those whose lives might be transformed by the gift of education and to make a Catholic education accessible to all Catholics, regardless of their financial position.
Kevin Greene, the former member of the NSW Legislative Assembly and for many years state MP for Oatley, had a long and distinguished career as a Parliamentarian and is well known as a champion of social justice and a tireless worker on behalf of the disadvantaged and those on the margins.
"The very generous donation from Dooley's is a reflection of the club's continuing commitment to the local Lidcombe area as well as the broader Catholic community," he says.
The Lidcombe Catholic Club or Dooleys as it is affectionately known, is one of the oldest social clubs in NSW - and one of the most generous. In the past year alone, Dooley's has donated more than $1.4 million in support of the immediate area. Above and beyond this, the Club donates to many other causes. These include its ongoing support of the Archdiocese of Sydney's Charitable Works Fund which helps fund the Seminary of the Good Shepherd, Homebush; provide pastoral care for Sydney's deaf community at the Ephpheta Centre, Punchbowl; the Aboriginal Catholic Ministry and the Reconciliation Church at La Perouse; as well as the Archdiocese's chaplaincies operating at the city's hospitals, universities, prisons and ports.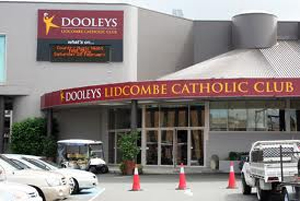 Donations to the Charitable Works Fund also support several important welfare programs and the Confraternity of Christian Doctrine which provides training and resources for the more than 1700 catechists giving religious instruction at Sydney's public primary and secondary schools.
In addition to its annual donation to the Works Fund earlier this year Dooleys gave a direct gift of $15,950 to the Ephpheta Centre for the many services offered to the deaf, and on 17 March this year was one of the biggest donors at a St Patrick's Day fundraiser, presenting CatholicCare with a cheque for $5000 towards the agency's Early Childhood Intervention Program.
"We are always delighted that we are able to give to the communities where our members live and to genuinely make a difference," says John Munce, current president and long time member of Dooleys. "We are here to serve our members as well as the community and are proud to do so."
Giving back to the community and offering a financial hand to local parishes, schools, sporting groups and organisations, as well as the areas hospitals and aged care homes has long been a tradition at Dooleys.
In 2011 the list of those who received help and sizeable financial donations from the Club included more than 14 local area primary and secondary schools as well as the University of Sydney's Refugee Language Program, St Vincent de Paul Society, the Australian Catholic University, the Leukaemia Foundation, Queensland Flood Relief Appeal, Barnardo's and the Sydney Breast Cancer Foundation.
Other donations made by Dooleys included the Auburn Diversity Services, the Community of Southern Sudan and Other Marginalised Area Associations and the Kateb Hazara Association.
"It is a good feeling to have the Club able to step in and do something concrete to help the community That's why clubs like ours were established in the first place," Mr Munce explains. "Together with providing a social centre for an area, clubs were formed to give back to the community and to help them thrive and grow. This is what Dooleys has always done and as far as the club industry is concerned, we are up there with the best."
Now the club which is regarded as among the top 10 clubs in NSW is stepping in to help give children a Catholic education and help parents who are struggling to pay their school fees.
"We all know that education is the key to giving children the very best start in life and know that Sydney's Catholic schools provide great learning experiences for their students," Mr Munce says adding that Dooleys is very proud to be associated with the work of the Catholic Education Foundation.
A $2000 donation to the Foundation provides a Catholic primary school student with an education bursary for a year while a $4000 donation will support a secondary school student's education for one year.
Donations are fully tax deductible. To find out how to apply for a bursary and help with education costs or to find out how to donate to the Foundation so more families can be given support to ensure their children receive the valuable gift of a Catholic education, log on to
www.ceosyd.catholic.edu.au
or contact the Foundation Director direct on 02 9568 8205.
SHARED FROM ARCHDIOCESE OF SYDNEY