ARCHDIOCESE OF SYDNEY REPORT
Catholic Communications, Sydney Archdiocese,
6 Jul 2012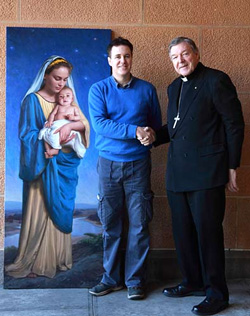 The relationship between art and faith will feature in creative ways this year at the SCENE event in Sydney with pop-up galleries, impromptu performances and panel discussions with professional artists.
Award-winning portrait painter, Paul Newton will be joined by Catholic artists including a multi-media designer and professional musicians to discuss art, spirituality and mission on a panel as part of one of the afternoon workshops on Friday 13 July at St Mary's Cathedral.
Many of Paul Newton's works presently hang in the recently opened Domus Australia pilgrim centre in Rome, and he has been commissioned by the Archdiocese of Sydney to complete 32 portraits for the centre that will chart the Australian Catholic experience.
These will include portraits of pioneers of the Church such as St Mary of the Cross MacKillop, Caroline Chisholm, Fr John Therry and the founder of the Archdiocese of Sydney, Archbishop Bede Polding.
An Archibald Prize finalist, Paul has also completed a magnificent, large canvas featuring the colony's early Catholics who gathered in secret in 1818, which currently hangs in the beautifully restored St Peter Chanel Chapel.
Newton has nine times been selected a finalist in the Art Gallery of NSW Archibald Prize competition with portraits of such notables as Maggie Tabberer, John Laws, Fred Street, Donald McDonald AC and Kate Fischer. His 2001 entry, a portrait of Sydney Olympic Games commentators Roy and HG, won The Peoples Choice Awards in Melbourne and Sydney as well as the Packers Prize.
He will be joined on the workshop panel by artists working in a Catholic context and include singer/composer Stephen Kirk from Canberra, professional musician Bernie Quinn and Clayton Diack, multimedia designer and illustrator from Catholic Communications in Sydney.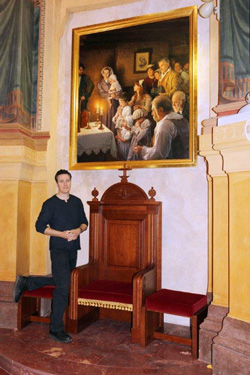 The workshop entitled The Spirituality and Mission of the Catholic Artist will break open the affirmation of Pope Paul VI, that artists are "the custodians of beauty". The panel members will speak and take questions on how they live the call of the Catholic artist in a contemporary context.
An 'Artists for Life' evening will help kick of the SCENE festivities with a pop up art gallery in a pub on Castlereagh St featuring 'meet the artist' opportunities. Artists will display samples of their work and over a drink or two participants can enjoy the creative space and join in discussions about art and life.
Following performances by some of the actors and musicians Bishop Julian Porteous will speak about the role of the artist in the life of faith.
Paul Newton says he is delighted with this year's artistic focus of SCENE and is pleased to be taking part in an event that offers such positive experiences of Catholic culture. "The beauty, spirituality and enthusiasm of the city events are in stark contrast to the competing interests of our busy commercial centre" he says.
Remembering the way the city came alive during World Youth Day 2008 he says, "It was such a positive time in the city. I hope that SCENE will recapture some of that."
He says that SCENE's focus on art and the role it has to play in the life of faith is very important.
"I hope that Friday's workshop will serve to inspire others to think about the arts in terms of spirituality and mission."
To register for SCENE workshops see
www.credosydney.org/our-works/scene/scene-2012
SHARED FROM ARCHDIOCESE OF SYDNEY